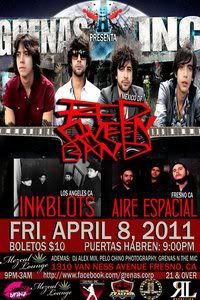 El D.F. invade L.A. Fresno and literally everywhere.  Tu estaras ahi?  Nosotros si! Nos vemos el 9 en el Metropolitan.   No te pierdas a RED QUEEN en su Red Tour por tu ciudad.
Red Tour-
31/3/11- Beaverton, OR
1/4/11- Yakima, WA
2/4/11- Seattle, WA
3/4/11- Palm springs, CA
8/4/11- Fresno, CA
9/4/11- L.A., CA -INKBLOTS,RED QUEEN & SON LOCUAZ @ THE METROPOLITAN 1846 East 1st St. Los Angeles, CA-
RSVP
http://www.facebook.com/event.php?eid=117083948369074
Mas info visita:
http://www.facebook.com/pages/Red-Queen-OFICIAL/108848906723
Por: Fanelly Millan
Pueden creer que ya estamos en Marzo?  Estos dos meses han pasado rapidísimo mas aun si como nosotros se la pasan de fiesta en fiesta. Bueno el punto aquí es disfrutar la vida al máximo y claro escuchar la música que te programamos y que afortunadamente nos llega de todas partes del mundo. Como en esta ocasión que te presentamos tres muy distintas propuestas musicales. NEW MUSIC: MÚSICA NUEVA desde Malaysia,  México y Chile.  Dos de estas bandas tocan electro pop con influencia Dance la otra un poco mas Lounge. Pero las tres comparten como base muy profunda la música electrónica.   A partir de hoy "I AM GLAM" de ZE (Malaysia) "WAKING" de SETU-Sensitive Emotions To Uplift y "CHEMICALS ON DISCO" de Dependientes del Beat ( México) y estarán siendo agregadas a nuestra programación habitual.  Si te gustaría participar en nuestra siguiente edición, mandamos tu MP3 adjunto con tu Bio a audioelementalradio@hotmail.com y mantente en sintonía. Somos elemental radio, elemental para tus odios.
"I AM GLAM"- ZE
"Malaysian electro-pop artist ZE! redefines glam with the release of her new album I Am Glam. This loud and brash disco rebel is hugely influenced by Madonna and her style has drawn comparisons to Lady Gaga, The Ting Tings, M.I.A. and Santigold."
Nombre: ZE
Origen: Malaysia
Genero: Electro pop, Dance, Trash, Glam
Integrantes: Ze
Sitio oficial : http://www.myspace.com/zebrainpink
"WAKING"- SETU
"Soy cantante de alma a alma. ¡Música fluye en mi ser y mi alma me pide un release! Mi música es cuando conecto con mi universo mágico, mis sueños, mi creador, es cuando soy el instrumento, ese momento en el cual conecto con el universo y el cosmos… luego todo fluye y nace mi música… como un rallo de vida, energía cósmica pura y divina…"
Nombre: SETU- Sensitive Emotions To Uplift
Origen: Chile
Genero: Electronica, Lounge
Integrantes: Silvia Soul y Jose Tomas Palma AKA JOC TO+
"Chemicals on Disco" -DEPENDIENTES DEL BEAT

"Proyecto Colectivo originario del municipio de Andorra la Vella el 4 de marzo del 2008. Basado e inspirado en la obra literaria "Pies Elegidos" de Ricardo Reís III. DDB o mejor conocidos como dependientes del beat. Se encargaron de musicalizar esta obra maestra a través de beats altamente contagiosos."
Nombre: Dependientes del Beat
Origen: Ciudad Juarez, Mexico.
Genero: Electro pop, Electronica
Integrantes:
Leonart Maurice St. Jean de Luz
Joaquim Coppola
Las hermanas D'ana y Albani Batista
E.d.d.i.
Ricardo Reís III.
Sitio oficial: dependientesdelbeat.com